By Stuart Dalton, President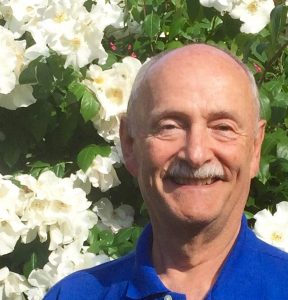 Happy New Year! 
First, I'd like to thank Carol Wong for her leadership of the  Peninsula Rose Society (PRS) the past two years, and also for her help in the transition. I am very appreciative of her work and accomplishments. I last served as PRS President in 1988 and can say with certainty I did not remember many of the specifics about the job. Jerry Georgette suggested I should also set out my own thoughts on a vision for the club and the position. Let me outline some aspirational goals:
• Bringing new people into PRS through attractive talks, demonstrations and articles as well as the welcoming spirit of the PRS members.
• Provide new venues to promote PRS via connections with others in the gardening community, especially the University of California Cooperative Extension (UCCE) Master Gardeners of San Mateo and San Francisco (MG-SMSF), which I was trained as, and became one of in 2016.
• I plan to write more articles myself as a Consulting Rosarian (CR), as I did in my approximately 20 year stretch from the late 1980's until I let my CR status lapse, and did not renew it until 2016. Toward that end I will write one this month.
• Recruit speakers on novel related gardening topics. Since I am on the speakers bureau for the UCCE Master gardeners, I know a number of excellent speakers on various topics what we may be able to recruit, working with Marie, who is in charge of speakers. I have a special interest in this and donated extra to the club to aid in attracting expert talks from farther afield with a slightly larger honorarium. Please feel free to ask for topics of interest until we line up speakers for the year.
• Encourage the re-introduction of our PRS rose show, albeit as a non-judged event this year. My personal first involvement with PRS was the annual show in 1984 when I walked up with some roses and Clay Morgan, one of the club founders, helped me show some "okay" blooms and make them a bit better.
• And, as I committed in December, I will do my best to fulfill the duties of PRS President. I guess once every 30 years is the least I can do for all the help, support and friendship I've received over the years.
In addition to looking forward I also looked back on many of the things that have changed in the way I personally care for roses. I used to spray very regularly with some pretty heavy duty systemic sprays (insecticides and fungicides), but now and for several years I do a dormant spray with OMRI (Organic Materials Research Institute) listed materials and only rare additional spot spraying if there are serious issues. See the list of OMRI materials here
In many recent years that means no additional spraying. I now know that integrated pest management (IPM) has many benefits, including encouraging more beneficial insects (e.g., lady beetle larva, bees, parasitic wasps etc.) that can help me garden and keep pests at bay. I certainly have learned from experience about some of the things that can ruin an area of rose garden over time, like trees that grow and add shade, or how you can spread oak root fungus. More about oak root fungus in the article I will write for this January issue.
Before I started my professional career, I did a lot of gardening, first as a ten-year-old, watering relatives and neighbors yards while they were on vacation. Later, working on the family farm, fertilizing and with the family spray business, and still later working in the northwestern US testing plant tissue for fertilizer content. It did help me pay my way through college at UC Berkeley. After I started my career and returned to California I again started gardening as a hobby, and never gave it up. When I traveled the world for work, I often visited botanical gardens around the US and on several continents. I plan to continue that this year between meetings. This year, tulips in the Netherlands.
With all the changes in my own life and in the world, one thing I find never changes, and that is that there are always wonderful people involved with gardening, and particularly in the Peninsula Rose Society. That is something I hope will remain just the same.
I look forward to my term in office as President and will try my best to help the PRS prosper.
Happy Gardening
Stu Dalton
PRS President
ARS Consulting Rosarian
UCCE Master Gardener San Mateo and San Francisco