By Stuart Dalton, President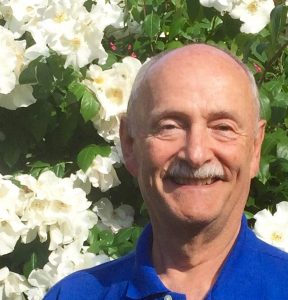 It was gratifying to see new people and a good turnout for the January meeting. There was a lot of energy and we had excellent comments and questions. I hope you had a chance to look over the revised pruning sheets and rose care throughout the year sheets that we revised and handed out this year. PRS is going to be having another pruning event at Orchard Supply Hardware in Redwood City Saturday, February 3rd at 10AM – 12N in case you have more questions or want to volunteer to support the event.
Some questions came up during the January meeting/pruning demonstration on where to get protective gear. I just ordered a new waxed canvas bib/ long apron (called Readywares Waxed Canvas Utility Apron) to replace my worn out old chaps that I cannot find online and got some slip-on gauntlets to use in addition to my gauntlet gloves (the gauntlets are called Arm Savers). I bought these items online.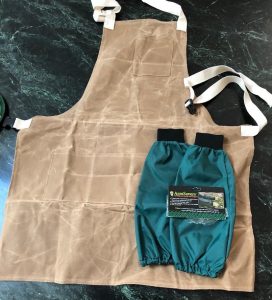 One item I covered briefly in January was propagation for out of patent roses. In case you did not see it, the ARS Annual magazine has a great article on propagating roses from cuttings. Some of the easy-to-propagate varieties are listed as well. My favorite rose is Sally Holmes, listed in the ARS guide at 8.8 rating (excellent) and one of those easy to propagate roses that I know works from my own experience. I've given away cuttings for years (including at the January meeting) and have had about a 30-50% success rate by taking 5-6 bud eye sections pencil size diameter, scraping the bottom inch in a few places and sticking in moist dirt for a few months in less sun than normal. No special cover and I seldom use rooting hormone. I'm sure with the care and advice in the ARS article I could improve my odds, but I already have quite a number of large plants. Sally Holmes really grows well on its own roots, as do many other roses, and all minis. But not all do. This article alone is worth the annual price of ARS membership. Please consider joining the American Rose Society and get copies of the magazine, and access to a great rose database.
I am glad to see the rain finally starting, and I hope you all have used some of the dry weather to get out and prune roses. The weather has been strange, first with our very dry December, and now no really cold weather. Some of the "indicator" plants that can die back in the cold like Angel Trumpet are still growing this year in my yard, and that tells me it is a warm winter so far. That means you may still have a few rose blooms on the plant, and you need to tell the plant it is time to go dormant by trimming the plant, stripping leaves and cleaning up. Personally, I have most leaves off and disposed of but still need to finish pruning. I've also sprayed once even though I did not finish the pruning. Try to get the plants cleaned up, debris and leaves removed and disposed and an initial reduction on the modern/ repeat blooming roses in the next few weeks. You have a bit of leeway after that and can finish or re-prune to make sure centers are cleaned up via finger pruning and shears used once the buds start to swell.
We are still looking for your input on possible tours you might like to see set up for the PRS, and topics you would like to hear about in talks later this year. All suggestions are welcome. Tell any PRS board member or send me an email president@peninsularosesociety.org.  
Happy gardening
Stu Dalton