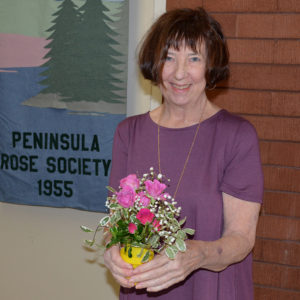 The Peninsula Rose Society (PRS) is proud to offer a $1,000 scholarship to support a Foothill College Horticultural Student internship for the Winter Quarter of 2021. This is in memory of Barbara Todd who was Past President of the PRS, an avid gardener, and a talented watercolor artist.
The intent of this scholarship is to provide a hands-on learning experience with all aspects of rose care. The recipient will be mentored by Consulting Rosarians of the PRS for a minimum of 40 hours of field experience and encouraged to attend monthly membership meetings (third Tuesday of the month at 7:30) and weekly Zoom presentations and chats (Thursdays at 2 pm) as much as possible. During the COVID pandemic, it is anticipated these events will be virtual using Zoom. The majority of the fieldwork will be in January and February involving dormant pruning of several types of roses. The recipient will also receive one free annual membership to both the PRS (includes monthly newsletter) and the American Rose Society (include bimonthly magazines). It is anticipated that the recipient will use this experience to further their career in gardening and landscaping.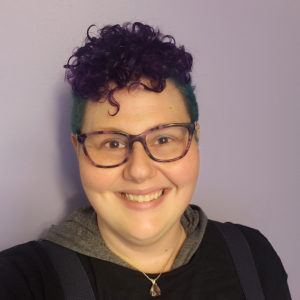 This year in 2022, the Peninsula Rose Society Foothill College Intern is April Thompson. She prepared this bio for us: "My name is April and my pronouns are they/them. I am a horticulture student at Foothill College where I just finished my first year in the Environmental Horticulture and Landscape Design degree program. I fell in love with gardening and plants over quarantine. I decided to pursue a new career in the green industry after 15 years in pet care where I was a dog groomer and Certified Feline Master Groomer. I look forward to learning as much as I can about roses.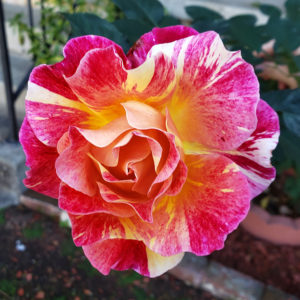 My current favorite rose is my Maurice Utrillo rose that I planted in 2019. It is a striped hybrid tea garden rose in red and white with an orange center."